Time out from your everyday life
Actively enjoy life - take a break on the farm - nature as a source of energy

There are many moving reasons for taking time out on our farm: a yearning for basics and life amid nature, leaving your everyday life behind you and taking a step back. Discovering new things or simply experiencing what your grandparents talked about - life on the farm. The location of our mountain farm and its many quiet havens are wonnderful. Here there are energy spots surrounded by scenic nature, where you can savour moments of reflection and let time fly by. Enjoy a holiday here to suit your taste: quiet and secluded or actively helping with jobs around the farm or exploring the region. Here in the heart of the picturesque Gastein mountain world you can take a breath of fresh air, unwind, get back to nature and find yourself at any time of year.
Certified Green Care Timeout Farm im Salzburger Land
Our Maurachgut has been a certified Green Care Timeout Farm, the first in Salzburger Land, since May 2018. We would like to place nature and life in and with nature in the forefront of your timeout holiday, as a break in unspoilt nature is proven to be beneficial for the mind and has a positive effect on your wellbeing. Enjoy relaxation, produce from our own farm and experience varied farm life, from bread baking to herding the cows down from the alpine pasture. Get to know a different sense of time where the smaller things in life are of great importance: breathe the fresh mountain air, observe the animals, experience the revitalising energy of the forest on a stroll through the forest, count the stars on an evening walk... here you can experience a slower pace of life.
Green Care is a movement arisen in Northern Europe, which has gained more and more importance in Austria in previous years. The Green Care Austria Association makes up together with nine Agricultural Chambers the competence network for the development and implementation of innovative, healthy Green Care services on active family farms. The project "Green Care – where people bloom" constructs a bridge between agriculture and the population, between people, animals and nature.
Green Care Timeout Farm

A Green Care Timeout Farm uses natural resources, which the farm offers, to aid people to a positive effect for their health and well-being.
Nature as an energy source

The positive effect of animals and plants we see ourselves daily. Working on a farm clears your head - for new thoughts and ideas. If you need a short break from your every day life, the path leads to our animals, in our garden, to the surrounding meadows or in the forest.
Balancing body and soul
Our farm is a place for deceleration in an ever increasing fast paced world. The feeled seclusion the view of the simple, smaller things in life helps balance your mind, body and soul and to recharge your batteries. Helping out on the farm you experience newe things and test your physical limits. Activity, peace, relaxation in harmony with the four seasons. Unwind and let go.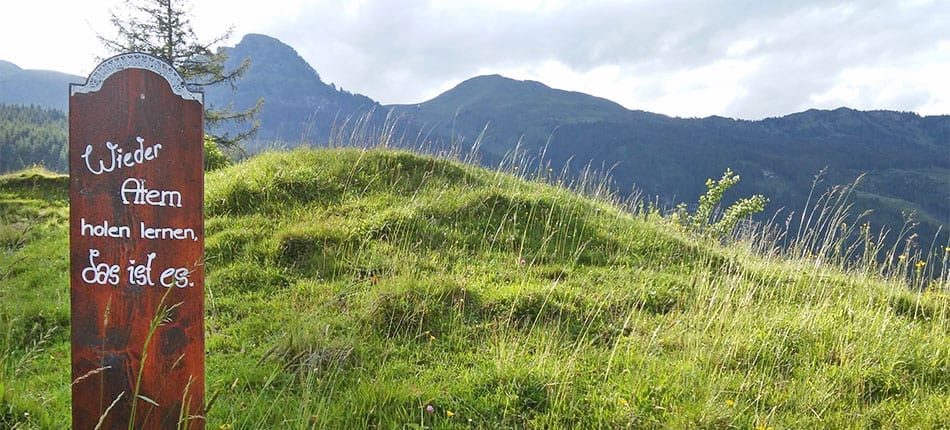 Happiness is taking time
to dream.