Farm life & animals
Your exciting holiday on the farm in Bad Hofgastein

Enter the world of life on the farm, get to know nature, local traditions and savour the fabulous Gastein mountain scenery. A holiday on the Maurachgut Organic Farm means spending your holiday in a friendly atmosphere amid peaceful nature - ideal for families, hikers and nature-lovers. You're welcome to help us with our daily tasks on the farm, which vary according to the time of year (feeding the animals, harvesting and handling herbs, haymaking, producing yoghurt...). As there should be on a traditional farm we have lots of farm animals for you to pet.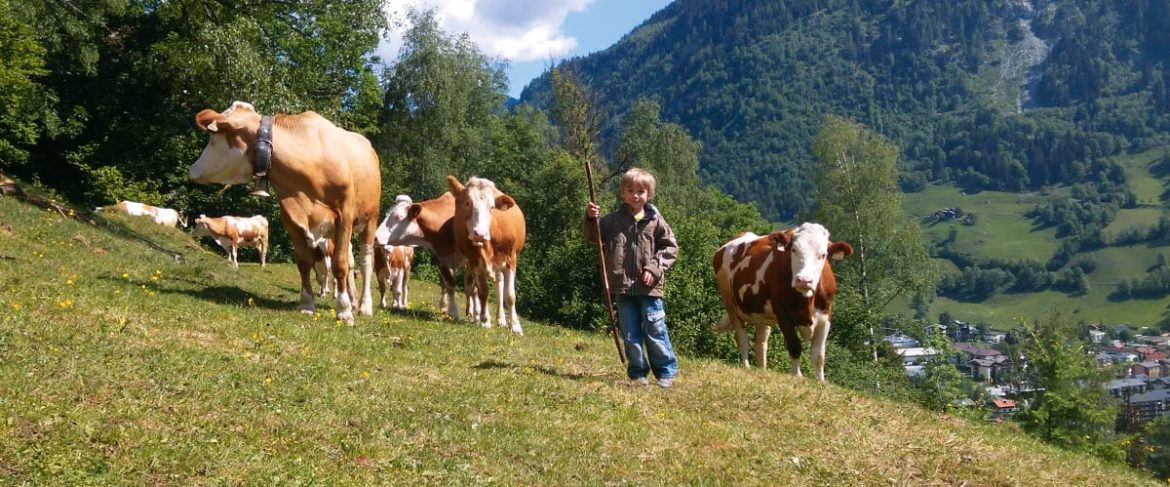 Get to know, feed & stroke our farm animals
Cattle & calves
Sheep & goats
Noriker horses & mini pony Sissi
Cats
Rabbits
Chickens & cockerel
The mainstay of our farm are our ten dairy cows and around 20 young cattle (Fleckvieh cattle) from our own cattle breeding. Some of our dairy cows, calves, our mini pony Sissi and other small animals spend the summer in the fields around the farm. The other cattle, sheep, goats and horses are herded up to the nearby alpine pasture. The animals spend the summer up there and enjoy the meadows and freedom of the mountain landscape. Our farm covers a total of approx. 20 ha mowing meadows, its own alpine pasture as well as jointly owned alpine pasture and forest covering around 10 ha.
Activities & adventure areas on the farm
Helping with farm tasks possible without previous knowledge
Learn how to deal with animals
Near-nature farm garden with a large variety of plants - experience the world of herbs
Idyllic fruit garden with gurgling stream
Make a fire at our camp-fire spot
Play outdoors freely with natural materials, encourages creativity (e.g. nature mandalas)
Observe birds, insects & wild animals in their natural habitat
Experience nature – walk barefoot, tread water in the spring, walk up to nearby alpine pastures
Pick mushrooms, berries & herbs in the surrounding area
Nature walks, evening walks & wonder and the many stars
Snowshoeing, tobogganing & backcountry ski tours start right from the farm
Immerse yourself in the forest & meadow, plenty of places for those seeking tranquility to unwind & recharge their batteries
Play area for children with sandpit, slide, bobby cars, scooters & pedal tractors
Books & a variety of games for indoors
Home-made produce, breakfast basket with produce from our organic farm
Personal contact with the farm family
As your hosts we're on hand daily in the farmhouse for your queries and further information.